A tethered indoor drone system with unlimited flight time
The Scout 137 Drone System has been specifically designed for safety and to give you control, coverage, and high-quality data for indoor inspections in industrial environments.
Indoor inspection drone for dark, industrial spaces.
The Scout 137 is designed for GPS-denied, hostile environments with little or no ambient light. Atmospheres may be toxic, with little oxygen. There may be dust, debris, risk of falling and entrapment. Such places are often not suitable for human entry. But they're still in need of inspection and structural integrity assessment.
It's easy to find motivation for using indoor drones instead of human entry in many indoor industrial inspection tasks. But still, getting the right tool for the job is vital. To perform a safe inspection and gather good data, you need a tool that lets you focus on the job, provides the best possible data and enables easy sharing and reporting.
Watch the video and read on to learn more about the Scout 137 Drone System.
✅ Unlimited flight time, stress-free inspection
✅ Onboard 3D Lidar for safe and stable indoor flight
✅ Location-tagged data, never lose a POI
✅ Live streaming of high quality inspection video
✅ Online review and reporting portal with data API
Watch this 2-minute video for a quick for a quick product introduction!
Click below to navigate to the corresponding section
Scout 137 indoor inspection drone
Onboard Lidar provides safe flight and better data
Indoor industrial spaces are often subject to lack of GPS coverage, which may leave a flying drone without the reference needed to maintain stable positioning. It will have no way to correct its own movements and be subject to competing, uncoordinated influence from the pilot and the environment. As a result, the flight path may become jumpy and irregular, introducing motion artifacts into your visual inspection data.
3D Lidar to the rescue. The Scout 137 Drone is designed around a 3D Lidar sensor that enables the drone to map its surroundings in real time, with sub-centimeter accuracy. This data is used for the drone's own safe and stable flight, as a visual aid to the pilot and for location-tagging all the inspection data resulting from your flight.
Patent-pending technology ensures that live sensor data is translated into a 3D map of the environment, including the drone's position and heading. Joystick input from the pilot is combined into the processing and "corrected" by sensor data before motor power is applied.
The drone knows immediately if it has been unintentionally displaced by gusts of air, propeller blast or other factors, and is able to correct that itself. The result is a drone that is easy to fly, maintains position when no manual input is provided, and moves with smooth and even motion. It will avoid obstacles and can perform "smart moves" like slide-along-wall at a fixed distance. Even with curved, irregular surfaces.
Situational awareness and location-tagged data
Flying drone inside an enclosed industrial environments with just the drone camera as visual aid, can be a daunting task. It is sometimes unsafe or impossible for humans to enter the inspection asset, and flying without visual line-of-sight between pilot and drone is the only safe solution. Self-similarity, repeating structures, lack of peripheral vision and insufficient ambient light may soon become distracting and bewildering to the pilot. 
The drone's 3D lidar data is also used to render a 3D situation map on the tablet used by the pilot during flight. This 3D map is shown picture-in-picture with the drone's camera feed, and can be freely panned, zoomed and rotated. It is an indispensable visual aid to the pilot, showing the drone's position and heading inside. When the pilot gets this situational awareness of the space, navigation gets easier and stress is relieved.
Since 3D mapping is available at any instant, all inspection data is also tagged with position and heading on-the-fly, for easy review and reporting in our online inspection data portal – the Scout Portal.
Read more about the benefits of 3D Lidar here.
Stabilized camera and ample lighting
As a result of Lidar-powered stability, the Scout 137 Drone also produces crisp visual inspection data with consistent and smooth framing. The onboard 4K camera is mounted on a 2-axis stabilized gimbal that is pitch-adjustable between+/- 90 degrees, to cover inaccessible ledges, ceilings etc.
The onboard lighting rig provides over 10 000 Lumens of light and has flexible control options to let you make the most out of it: Depending on the situation, you want even lights but need to dim them now and then to avoid glare from specific surfaces. Or sometimes you may need to create shadows to emphasize thin cracks.
The Scout 137 Drone is made to simplify your indoor inspection duties and improve your data-driven decisions. Now you can inspect the drone! The 3D model allows you to look at it from any angle, zoom in and out and read the text captions.
Click the play ▶️ symbol to load the model. Fullscreen is available.
Click numbers or slider controls to move between highlights.
Click and drag to rotate (or swipe). Ctrl/shift for zoom and slide.
| | |
| --- | --- |
| Dimensions, drone | 560×380×280 mm (L×W×H) |
| Dimensions, transport case | 595×446×337 mm (L×W×H), regular checked baggage |
| Weight | 3.2 kg |
| Camera resolution | 4K video, 3840 x 2160 @ 30 fps |
| Lighting Intensity | More than 10,000 lumens |
| Camera Gimbal | 2-axis stabilized, ± 90° pitch |
| Tether Length | 40 m |
The gallery below shows some actualy high-res photos taken by the Scout 137 Drone to illustrate the level of detail achieved. Click the images for full-size versions.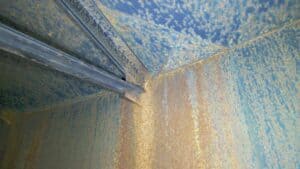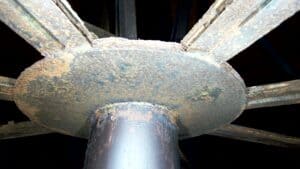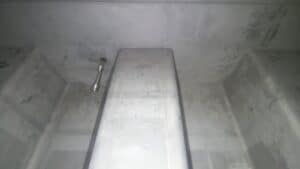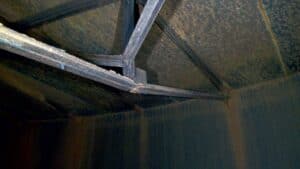 Tether and Ground Station
The ground station provides the drone with power, control signals and a data network via the tether.
The Scout 137's tether system supplies power to the drone and allows stress-free inspection with no limitations on flight time. No need to worry about changing batteries. You can take your time while flying and make sure you capture the right data. Need to discuss something with your team mate while working? The drone will wait, mid-air, steady as a rock.
The tether also provides a robust wired data link, where location-tagged inspection data flows back to the ground station and can further be streamed live to the Scout Portal, when an internet connection is present.
Tether
The tether itself is a custom made high-quality product. It has excellent cut resistance and a smooth outer surface to be able to slide over beams, rails etc. without catching. It has high-visibility coating and halogen-free flame retardancy as recommended by its application.
The tether easily plugs in to the ground station and the drone, and is secured with carabiners that relieve stress and secure the connection. The tether is rolled up on the provided coil and stowed away inside the ground station box after use. Current tether length is 40 m.
Ground station

The Ground Station connects directly to wall outlets, generators or battery packs. If relevant, we also provide a suitable battery solution mounted in the same type of case as the rest of the drone system. The ground station can be connected to the internet via on-site LAN/Ethernet.
The ground station receives all control signals from the pilot to the drone, via the tether. Read below for more info about this 
| | |
| --- | --- |
| Dimensions | 521×389×257 mm (L×W×H) |
| Weight | 18.5 kg |
| Input Voltage | 180 – 264 V AC |
| Internet connectivity | LAN/Ethernet (built-in) |
| | (Made to the specifications of IP53) |
Connecting the Ground Station to the internet
The Ground station can be connected to the internet to enable live inspection streaming to the Scout Portal. This is a useful work mode that allows inspection teams on-site to cooperate with off-site asset owners or experts live during inspection. Being able to direct and discuss inspections as they happen, lets you make important decisions much sooner and can shave off hours and days of inspection time and site revisits.
If you have internet available via a local LAN on-site, you can connect the Ground Station to the internet using the LAN connector on the front panel. If a LAN is not provided, the Ground Station also has a built-in 4G modem that can provide the connection.
The Scout Portal is a powerful cloud-based tool for the live-streaming, capture, storage and analysis of data for your confined space inspection needs.
The pilot operates the drone using a controller and a tablet
In summary, the connection chain between pilot and drone looks like this:
Pilot -> controller -> tablet -> ground station -> tether -> drone.
The controller connects to the tablet using either Bluetooth or a fully wired USB connection. Due to the autonomy and navigational aids built into the drone system, you will be able to perform advanced flight patterns with the simplified flight controls.
The app provides full control of the drone's systems. The video data from the camera as well as the 3D map from the LiDAR are displayed in real time, and the user can register inspection findings that are tagged with time and location, by clicking an index finger button.
The navigational aids built into the drone system allow simpler flight controls and easier operation, and you can choose between a range of common drone control setups.
The controller is connected to the tablet via Bluetooth or a fully wired USB connection. With USB, no pairing is necessary and the controller is continuously charged off the tablet's large battery.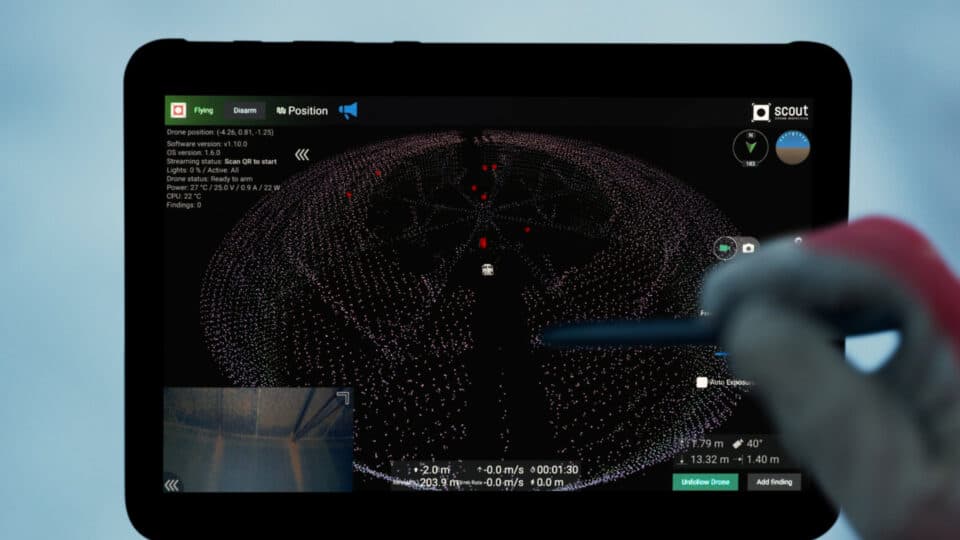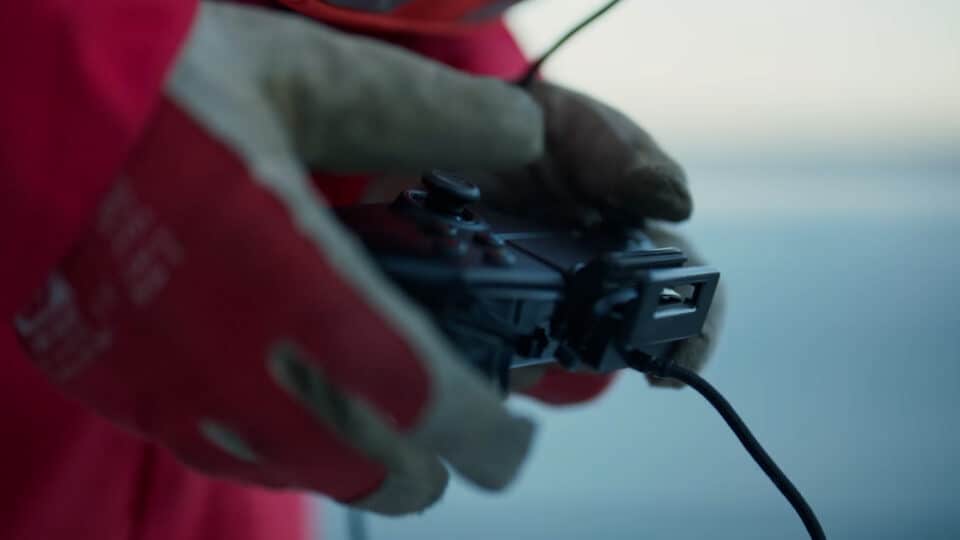 Drone control in a metal enclosure
Enclosed metal structures often create problems for wireless transmission of data and control signals. Because of this, some flexibility is needed with regards to how the controller and tablet is connected to the Scout 137 Drone.
All control signals from the pilot to the drone, go via the Ground Station and the tether. For connecting controller to tablet and tablet to Ground Station, there's a choice between wireless or wired.
This offers options regarding where the pilot is placed in relation to the Ground Station, without letting multipath distortion and interference from other sources compromise drone control.
| | |
| --- | --- |
| Dimensions | 125×159.4×66 mm (L×W×H) |
| Weight | 306 g |
| Battery | Up to 23 hours |
| | |
| --- | --- |
| Dimensions | 170mm x 243.5mm x 9.9mm |
| Weight | 653 g |
| Display | 1920 x 1200, 10.1 inches |
| Ground station connectivity | Wi-Fi or USB |
| IP rating | IP68 |
| Battery | Up to 15 hours, removable battery |
📢 "Never lose your way, never lose your data and never lose your drone!"
A Serious Tool for indoor inspection
Our product is a cutting-edge, fully digitalized drone-based system for safe indoor inspection of industrial spaces. The system allows you to focus on the job and also has clear advantages for beyond-line-of-sight (BVLOS) applications.
Along with the Scout Portal, it is an end-to-end inspection data chain that extends beyond the memory card to fully enable the digitalization of your industrial inspection and predictive maintenance activities.
✅ Unlimited flight time, stress-free inspection
✅ Onboard 3D Lidar for safe and stable indoor flight
✅ Location-tagged data, never lose a POI
✅ Live streaming of high quality inspection video
✅ Online review and reporting portal with data API
Equipment included with purchase
This is what's included when purchasing a Scout 137 Drone System. All cables and connectors needed to operate the system are provided, including the wired controller options described above.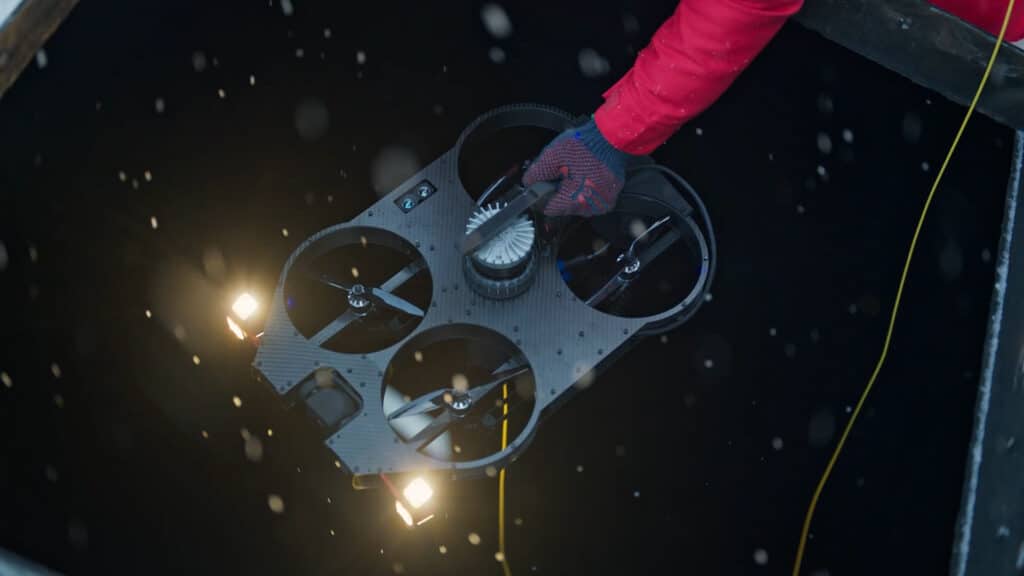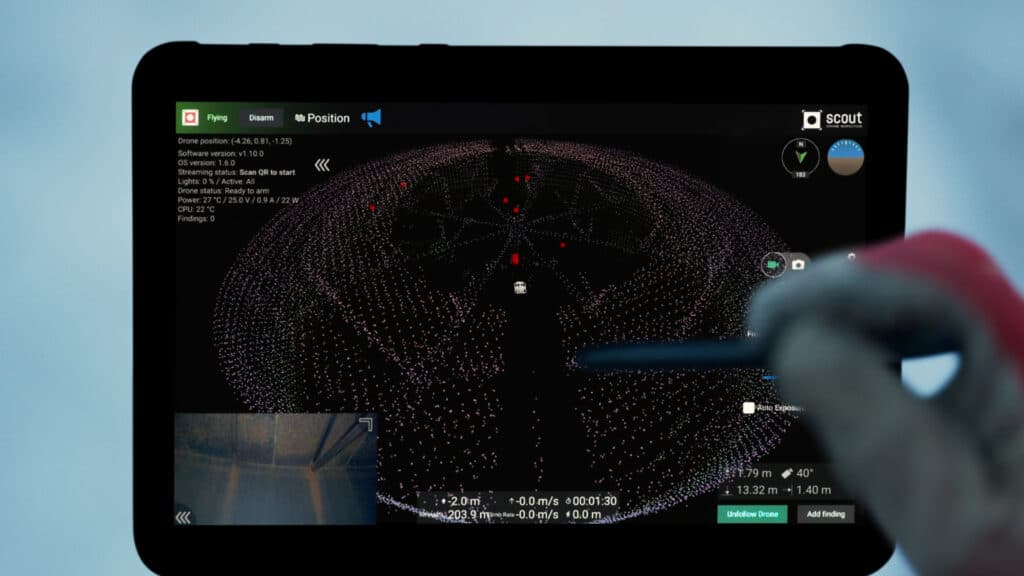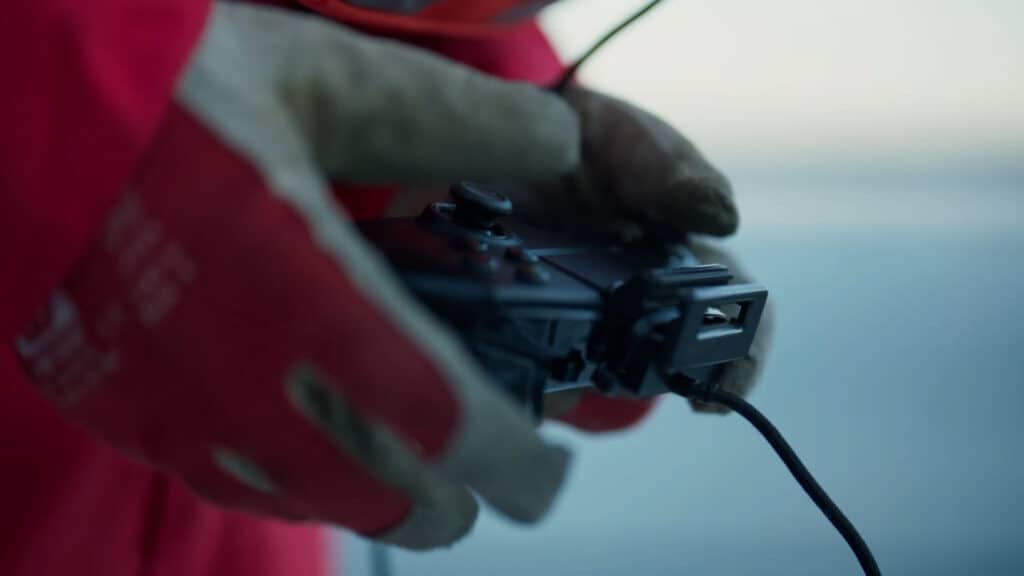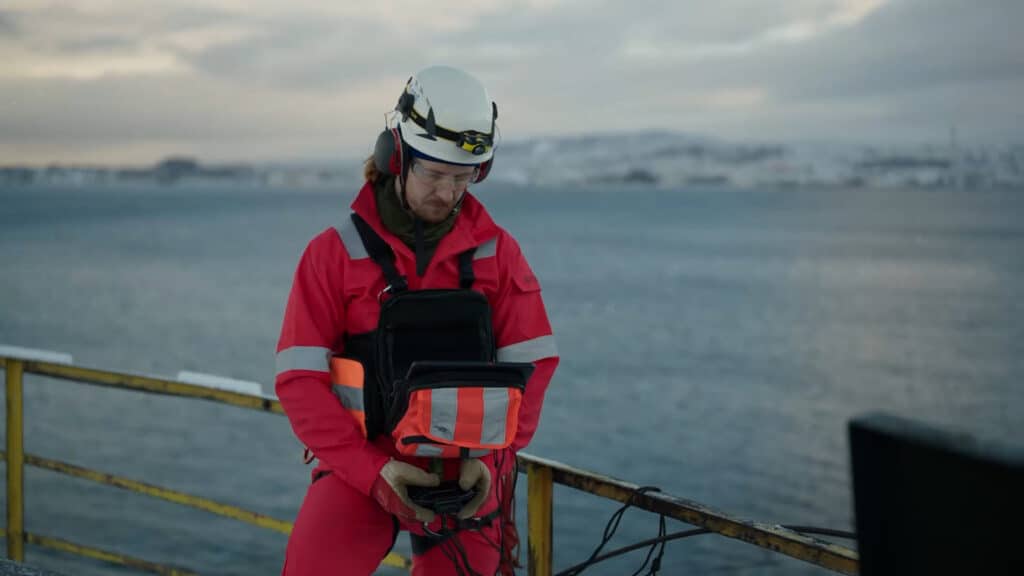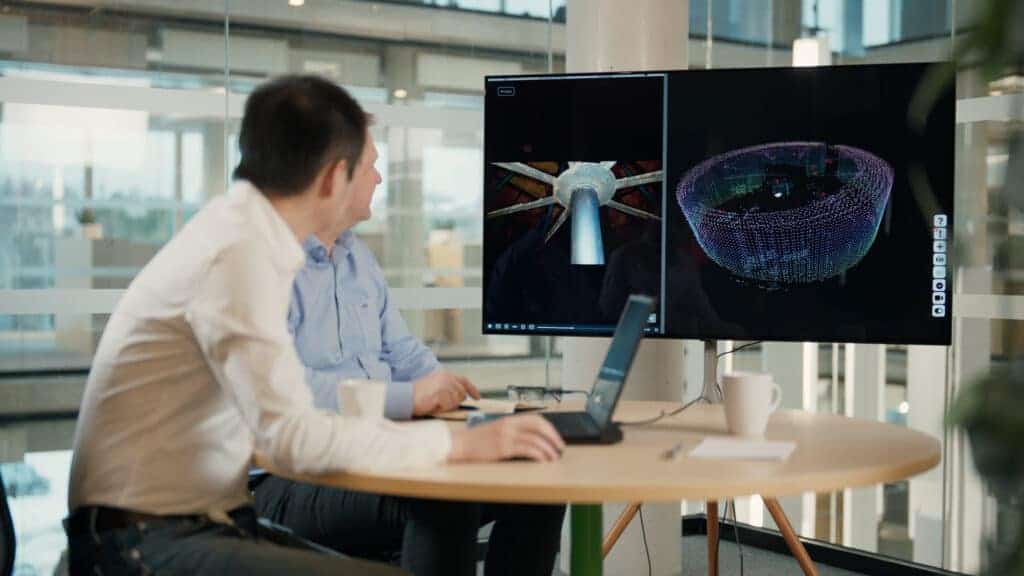 Take the Scout 137 Drone System to work
Please submit the form below and we'll get in touch to discuss how our product fits your business.
The Scout Portal is a powerful cloud-based tool for the live-streaming, capture, storage, and analysis of data for your confined space inspection needs.