The Scout 137 Drone System has had several updates and design improvements since it was first launched on the market. We've always been proud of the model and now we have some major improvements that deserve extra attention!
All new
Building on the success of the first generation, the next-gen Scout 137 (2023) is the best and most advanced Scout 137 Drone system so far. There are external and internal updates that represent immediate benefits and at the same time prepare the platform for future extensions.
The most noticeable change at first glance is the tilted Lidar, which is a prominent and important update. But there are other design changes that have interesting benefits to the user. We will have a look at them below. First, let's try to summarize some general benefits.
The main frame
The updated Scout 137 design is generally more rugged. External impacts are most importantly handled by the Scout 137's excellent built-in object detection and anti-collision. But there may be situations where you need to get close enough to something that you want to switch off the sensor-based safety functions. For example if squeezing through an extra tight hatch or moving in close between tightly spaced bracket toes.
Manufacturing of several parts has changed from 3D-printed plastic to molded plastic and some parts that were previously plastic are now carbon fiber. You will also notice that we have replaced the two rear cooling fans by a heat sink, resulting in much better dust ingress protection.
In summary, the frame is now slightly lighter and more tolerant. If you have an accident and bump into something after switching off anti-collision, absorption is improved to ensure continued operation.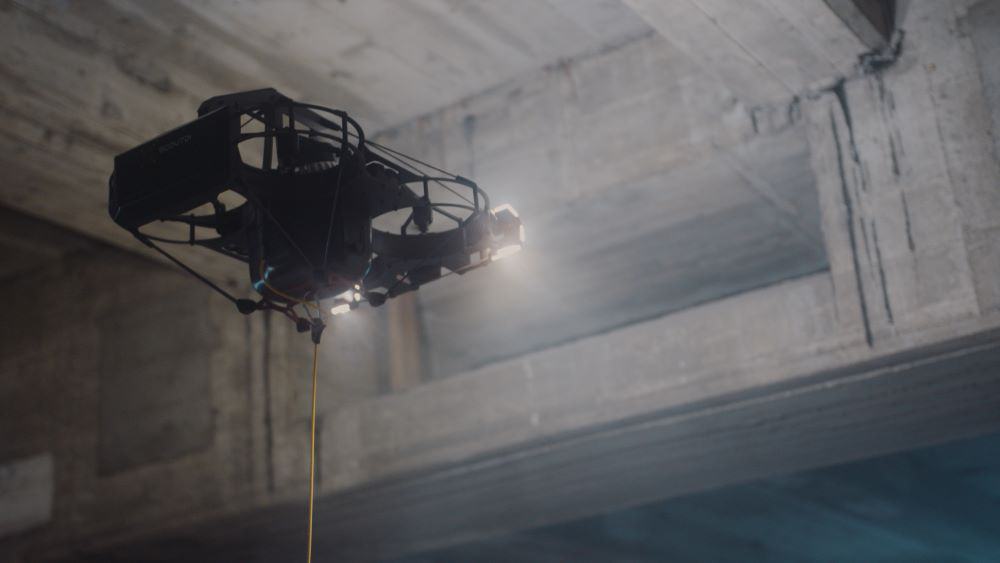 More operational benefits
The drone body now has fewer details that can be caught on edges and corners. For example, we've mounted the LED lights directly onto the main frame and not on protruding fixtures. They don't stand out as much from the frame, will rarely get caught on something and never get bumped out of position.
You may also notice that the handle extends slightly higher from the main body. This serves a double purpose:
It makes hand launch a little easier. Even when wearing thick protective gloves (which you should), letting go of the drone when launching it through a manhole is now a smoother experience. A small detail that adds to the confident-inducing experience that using the Scout 137 Drone System is and should be!
In addition, the extended handle serves as a better mounting point for the most eye-catching addition to the main frame: The Guard rails.
The main purposes of the guard rails are to guard and guide: It will help you guide the drone for example when flying through manholes or other narrow openings (it passes a 40 cm manhole). It also prevents horizontal features of the environment to catch the drone, especially via the handle. To some extent, the guard rails will also prevent things from hitting the frame or even getting caught in the propellers.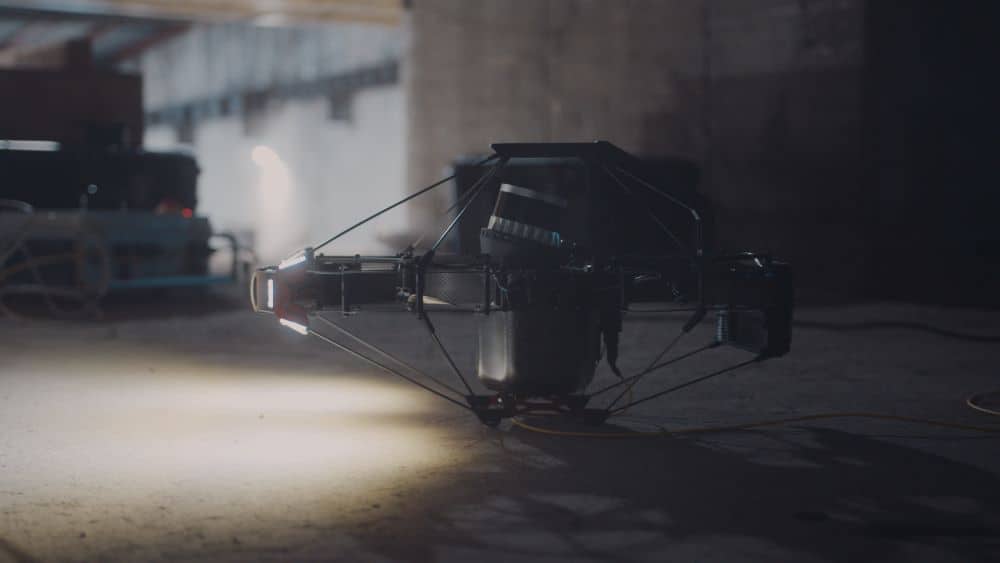 Push configuration
We've changed the motors but a more noticeable difference here is that we have mounted them upside down. This is called a push configuration. There is plenty of information about the pros and cons of different propeller configs available online. But to us, the most prominent benefits are these:
Mounting the propellers upside down means that the mounts will be above the propellers. We have replaced the single mounting beam that we had, with several narrower beams. This adds more guarding structures preventing stuff from getting into the propellers. The outer propeller guard is no longer part of the main frame and can be easily replaced.
The sum of this new configuration is better air flow. The drone now hovers at lower RPM and the max thrust is increased by 15 %. This means increased RPM overhead, implying more air authority and agility which can come in handy in some situations. Swapping the new motors is also very easy.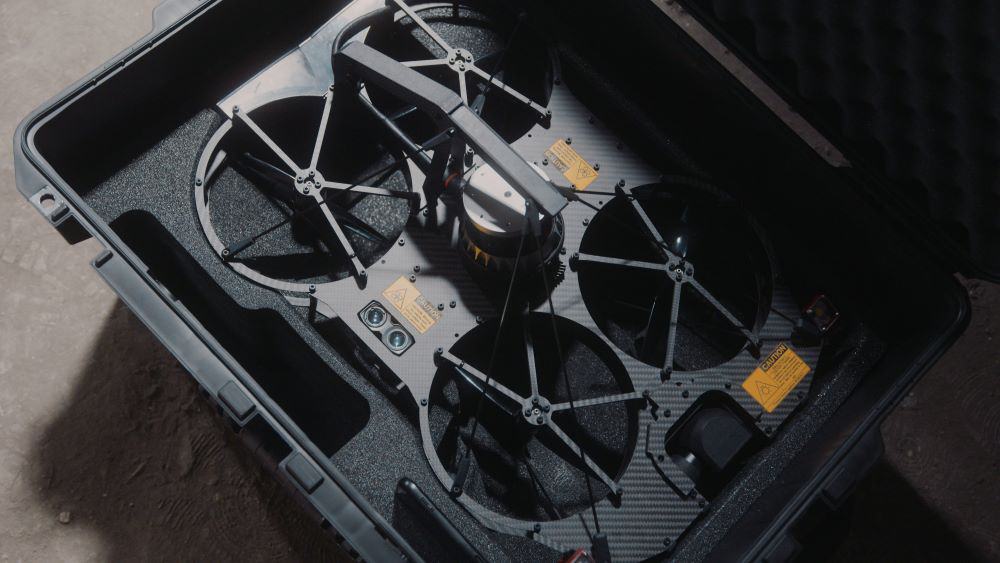 New Lidar
The Scout 137 Drone now features a new Lidar sensor, all new Rev 7 OS0-64 from Ouster. The new sensor is 10x more light-sensitive and can process up to 5.2M data points per second. Its 64 beams represent a doubled beam count and offer potential for much denser and more detailed point clouds.
The vertical Field-of-View (FOV) of the new Lidar is even larger than before, with ±45 degrees (total 90 degrees). This is 2x that of the old one, which was ±22.5 degrees. In addition, we have mounted it with a 15-degree tilt onto the frame. All in all, the result is faster and better volume coverage, and generally higher precision mapping. It also improves drone positioning and navigation.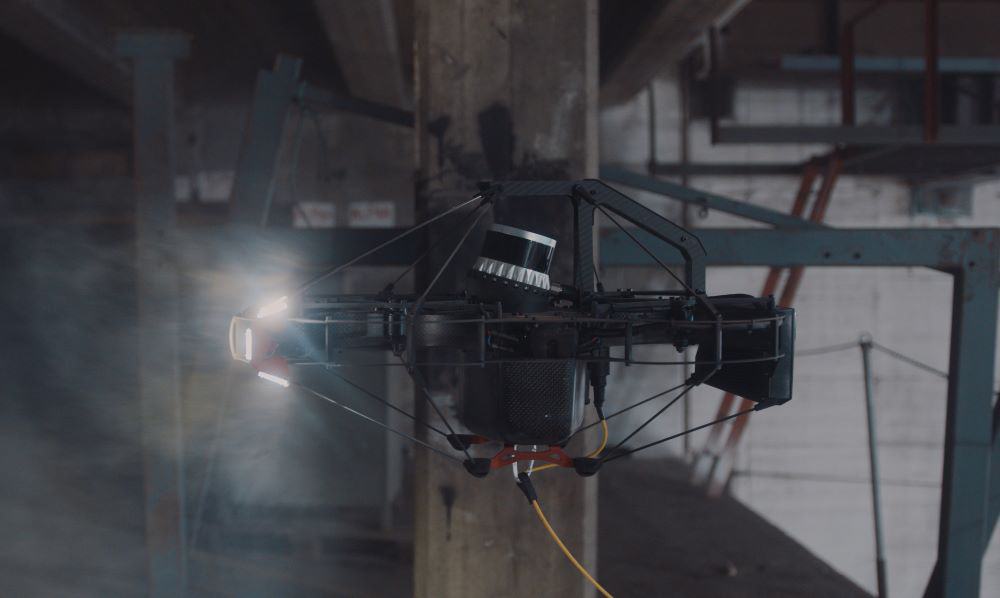 The next-gen Scout 137 (2023) is the best and most advanced Scout 137 Drone system so far. There are external and internal updates that represent immediate benefits and at the same time prepare the platform for future extensions.

ScoutDI
Some geometries that are traditionally "difficult" for Lidar sensors, will benefit from the larger FOV and tilted mounting. For example, in cylindrical shapes like storage tanks and grain silos, it will allow the drone to see the ceiling sooner. The drone gets a more complete volume image to calculate its own position and render point clouds with more confidence.

Of course, with this kind of hardware now standard, our software teams are busy making use of all the data to provide Scout 137 users with the best possible 3D point clouds for effortless spatial awareness👍
The new Lidar will have very positive effects for other product development efforts, including our autonomy roadmap. The above session from The Scout Portal replays a Scout 137 test flight in a cylindrical storage-tank-turned-test-facility. Our software teams are working towards offering this quality point clouds to all our customers via the Scout Portal.
Smaller and lighter Ground Station
The Ground Station is a vital part of the Scout 137 Drone System and has also been subject to significant changes.
First, it is much smaller and no longer integrated into its transport case. There's now spare room for the tether, high-viz chest harness and other stuff.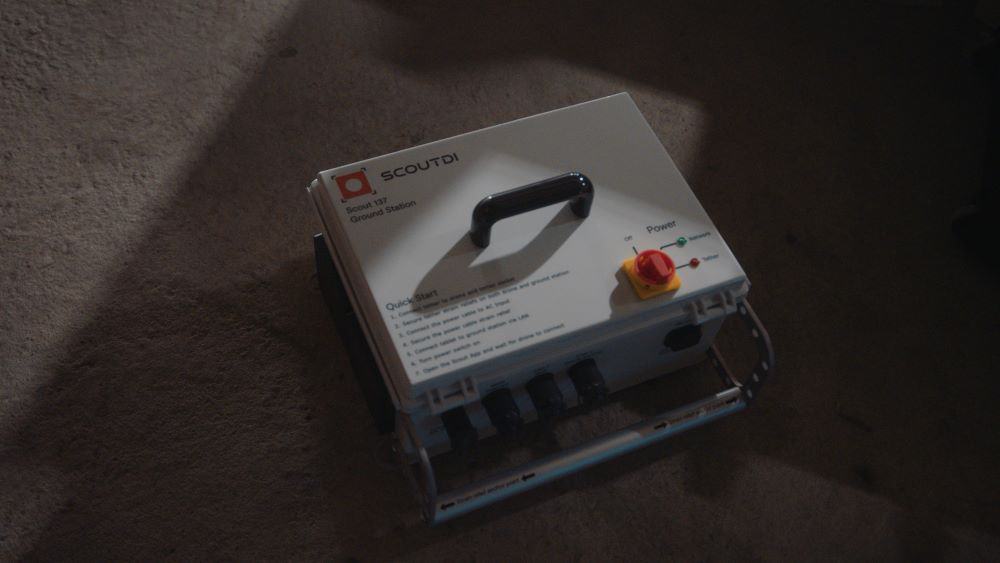 At about 10 kg, we have reduced the weight of the ground station by almost 50%. A welcome improvement in many situations. It has a sturdy handle and will be much wieldier and easier to carry around. If there's a need to climb, it is also possible to mount straps on it so you can carry it on your back.
Finally, the new Ground Station is generally more impact-tolerant than before. We have designed it in accordance with IP53, but we haven't tested for compliance yet.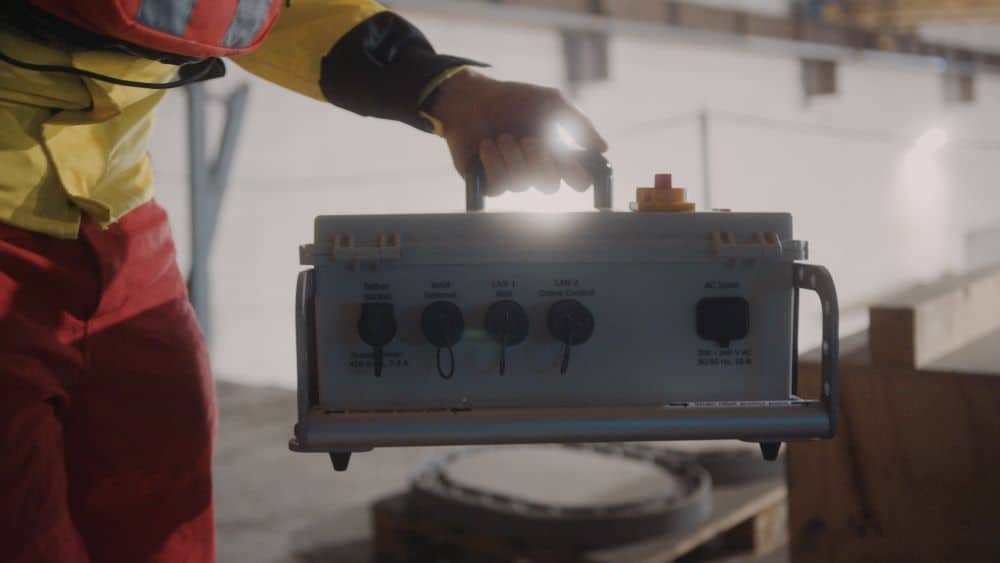 Summary
All in all, the next-gen Scout 137 Drone System is the best and most advanced so far. Hardware changes are what take the most time to develop and implement. We are confident that these updates represent several steps forward in several right directions. We have a rugged hardware platform that will grow with future expansions in terms of payload and that is easily scalable in terms of software innovation.
Customers will also feel it during long inspection hours (it's tethered). It is a solid system designed from the ground up to induce confidence and trust for people needing proper tools for proper jobs.
Would you like to know more about the Scout 137 Drone System?
Feel free to contact us using the form below! 👍