ScoutDI demonstrates drone-based inspection on FPSO Varg with remote live participation.
ScoutDI performed a range of tests onboard the Floating Production Storage and Offloading vessel Varg, demonstrating drone-based asset inspection and various product benefits including non-entry inspection and live remote participation.
DNV were also able to demonstrate the use of Machine Learning on live video footage to automatically detect surface cracks in real-time.
Down from an estimated 5 days to 1 day using drone system.
Cost related to operational downtime is estimated cut by 80%.
No climbing, scaffolding or use of flotation devices. Job can be done without human entry.
Live streaming of location-tagged inspection data via internet enables remote participation with situational awareness.
Varg is a Floating Production, Storage and Offloading (FPSO) unit owned by Altera Infrastructure. She is normally moored at an offshore oilfield where she is connected to an oilwell, processing the well stream into crude oil and gas. Generally, FPSOs shall stay at site during the whole life of the oilfield without being disconnected or removed from the mooring system. Consequently, inspections have to be performed on-site and under continuous operation. Survey "campaigns" are therefore developed, that minimize operation downtime across multiple vessels.
The primary concern of tank surveys, or inspections, is to ensure that there are no cracks, corrosion or other issues that can compromise safety. Surveys are carried out together with classification societies such as DNV, which must be represented on-site together with other inspection personnel. Whilst safety is of paramount importance, surveys are also expensive. Finding new technologies that maintain or improve safety while reducing cost, is therefore always interesting. 
In partnership with DNV and Altera, ScoutDI performed a range of inspections and tests onboard Varg in Skipavika, a harbour terminal in Norway. The task was to demonstrate non-entry inspection and live remote participation. ScoutDI, DNV and Altera were represented on-site and at Altera's offices in Trondheim, participating remotely.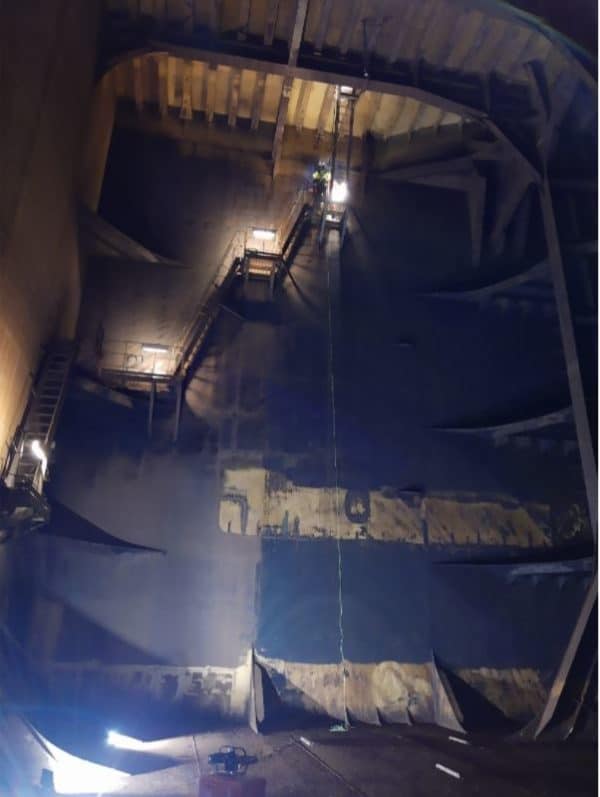 Onboard the Varg, flights were conducted with drone operator plus one supporting technician present inside the tank. Two positions for the ground station were tested:
Ground station lowered into the tank
Ground station remaining topside, right next to the manhole.
The reason for this was to test different tether management situations. Tether length is currently 40 m. In the first setting, the tether was hanging from the drone and down to the ground station on the tank floor. We could then move the ground station around in order to get more reach or avoid tangling. In the second case, the tether was hanging from the top of the tank and down to the drone. This eliminates creative use of the ground station's position. But it allows feeding the drone the tether length needed and works well in many situations, depending on tank geometry and size. Besides, being able to fly the drone from topside is the key to non-entry inspections in liquid storage tanks like this.
We designated a few POI's (Points of Interest) and attempted to get as close to them as possible. This is generally interesting in order to: Get the sharpest images, at optimum lighting, and with the spatial resolution required. Oblique lighting techniques with individual front light controls, as present on the Scout 137 drone proved very useful.
Another general comment is that quite a bit of dust had settled on the bottom of the tank. This affected visibility when flying in the lower areas. After climbing to 4-5 meters, visibility was less of an issue since the drone thrust no longer whirled up dust from the floor. Visibility in dusty environments is a frequent challenge in industrial settings, and another reason why sufficient flexible lighting is an advantage.
"ScoutDI is the most forward thinking drone technology company we have dealt with and we have a great dialogue with them regarding product development. They also have heavyweights such as DNV and Equinor standing behind them which put ScoutDI at the forefront of the industry"
Situation- or spatial awareness
All close visual inspection was done relying on the camera feed and the 3D point cloud (SLAM visualization) from the Lidar as the only visual support. Flying the drone is done via a hand controller using conventional joystick controls. The additional table and app  included with the system, provides further system controls and information for the operator. The drone camera feed and the 3D point cloud are visible simultaneously and provides great support to the operator during flight. With this unique feature, an understanding of the drone's position and heading inside the tank is possible and you can operate the system without line-of-sight to the drone.
For one test, the operator was located topside and the ground station inside the tank. In this case, the connection between the operator's tablet and the tether system was reinforced with an extended ethernet cable. The reception or transmission of Wi-Fi signals (or any radio signal) to and from a closed metal structure like this tank, will be heavily attenuated. It is therefore a great advantage of this system, to be able to mitigate signal loss from topside to tank bottom, simply by plugging in a cable.
We also tested flying with both the ground station and drone operator located topside, a scenario attractive to many customers. Using this setup, we were able to inspect a pump tube aft in the tank – flying with the camera feed and the 3D point cloud as the only visual aids – completely without the option to rely on line-of-sight. A successful and very useful test of the feasibility of this system for non-entry inspections.
Live remote participation and inspection replay
Altera had prepared an operations room in their main office in Trondheim with large TV screens. With the Scout 137 ground station onboard Varg connected to the internet via a 4G modem, everything was set to invite on-shore personnel to join the inspection.
A live demonstration with 3D location-tagged video and 3D point cloud was streamed with minimal latency to the remote team. With an MS Teams meeting set up over the same connection, the on-site and on-shore teams interacted in real-time and collaborated on the inspection job via the Scout Portal. This way, the team collaborated on securing inspection coverage and making informed decisions while flying.
It was also pointed out that being able to go back and review data from specific locations directly after the live inspection, provides excellent flexibility that is otherwise not allowed.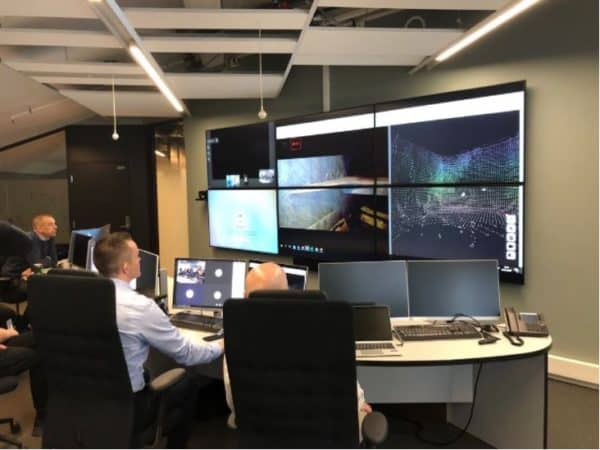 The Scout Portal enables you to participate remotely and see inspection replays anytime and from anywhere.
Machine learning and automatic crack detection
During the live remote session, live video from the Scout Portal was processed by an algorithm developed by DNV. The algorithm was trained to recognize small cracks in the tank walls.
In early stages, such anomalies will easily go undetected by human eyes even with sufficient lighting. However, when captured with a high-resolution video camera at close proximity and with sufficient lighting, cracks can be automatically detected and reported in real-time.
This was successfully demonstrated to the live audience off-site in the Altera office, who watched as detected anomalies were highlighted by yellow rectangles superposed on the live video feed.
We believe that the Varg FPSO inspection was a good demonstration of the full drone system and its capabilities. In addition to test close proximity and non-entry inspection completely unguided by line-of-sight, we successfully demonstrated remote participation and how experts off-site can interact in real-time with personnel on-site. Communication was clear and little latency experienced.
Location-tagged video proved to be of great value, both on-site and for remote participation. The Scout Portal proved to be a very promising platform for extending the value of the inspection data.
Would you like to know more about the Scout 137 Drone System?
Are you looking for drone-based inspection technology for confined industrial spaces? Submit the form below to get in touch with us and we'll help you look at your options 👍
The Scout 137 Drone System has been specifically designed to give you control, coverage, and situational awareness for your confined space inspection activities.
The Scout Portal is a powerful cloud-based tool for the live-streaming, capture, storage, and analysis of data for your confined space inspection needs.