ScoutDI carried out an inspection of a slop tank onboard the FPSO SKARV while it was in operation in the North Sea. Here we faced the challenge of drone operations in environments where there is an explosion risk.
Reduced asset down-time through flexible inspection regimes
Reduced cost by avoiding scaffolding, climbers and rescue teams
​Improved safety by reducing need to enter hazardous areas
Improved data quality and situational awareness in data capture
Skarv is a Floating Production Storage and Offloading (FPSO) vessel is facility equipped for the treatment of hydrocarbons from sub-sea oil wells or nearby platforms. The crude oil products are brought on board for processing via pipeline and offloaded via shuttle tanker of delivery pipeline and the FPSO provides a flexible solution without the need to install infrastructure at the site.
Any of the cargo tanks on board the vessel can be designated as a slop tank, and it would be used to collect any draining fluid, tank washing runoff and other oily mixtures. This means that there is a possibility of airborne hydrocarbons particulates and gasses and a potential risk of explosion. Safe operation is number one priority to operators of such vessels and these areas would normally be a no-go zone for the operation of drone equipment as there are currently no ATEX certified drones on the market. After an extensive risk assessment including a safe job analysis the Scout 137 system was deployed under a hot work permit in a cleaned and ventilated tank.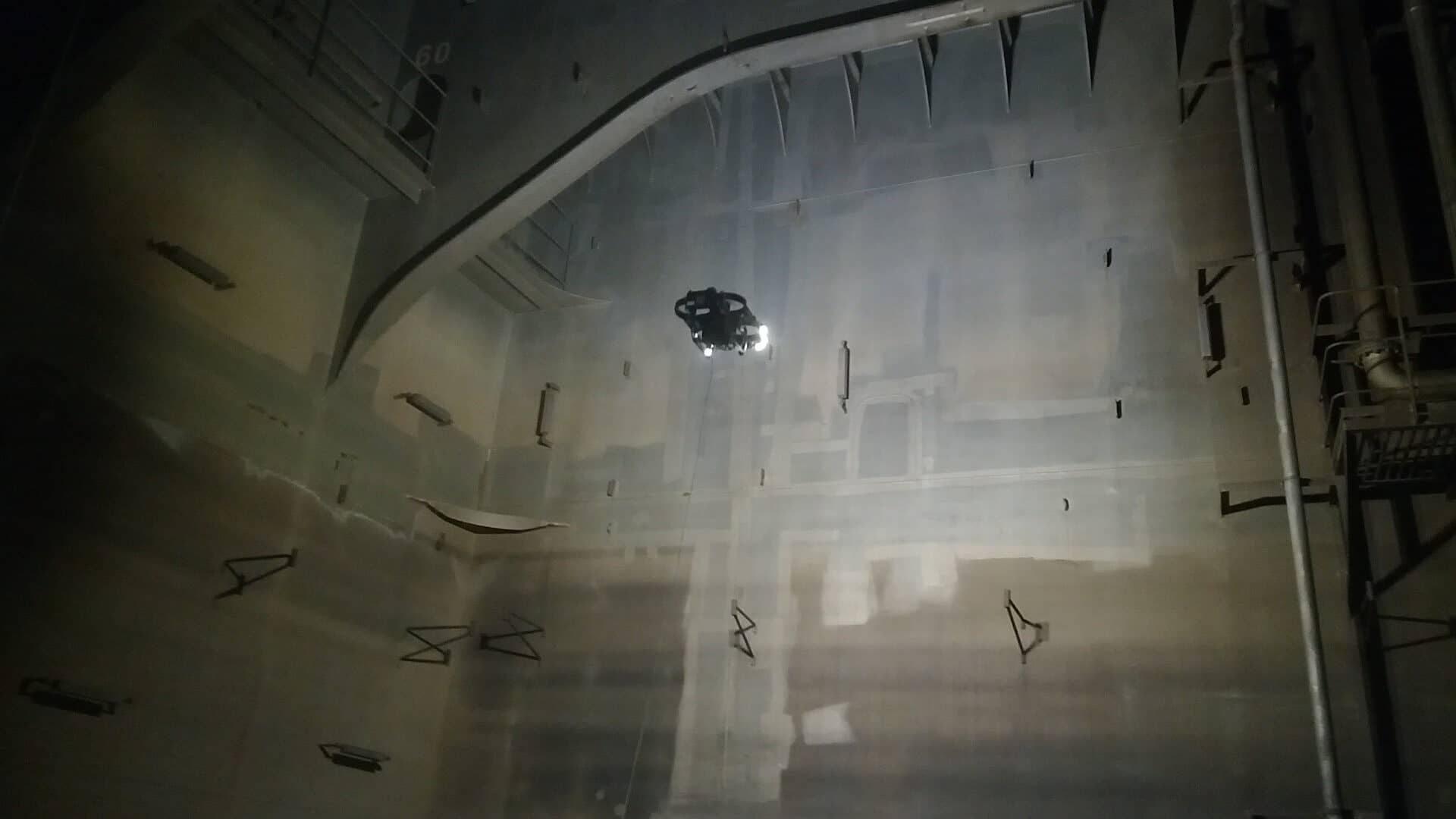 The Scout 137 Drone inspecting Skarv FPSO
As an extra safety measure and in collaboration with a third-party testing laboratory, we wanted to ensure that the drone system is not an ignition source during normal operation (no failure modes). This was demonstrated by placing the equipment (drone and ground station) a test chamber where a 4-7 vol% propane atmosphere was introduced (note: the lower explosive concentration (LEL) and upper explosive concentration (UEL) are 2.1 vol% and 9.5 vol%, respectively). The equipment was operated safely, including switching on and off, for an hour without risk of atmospheric ignition.
Testing under such realistic conditions in normal operation allowed us to de-risk the operation prior to the inspection on board Skarv. During the inspection on board Skarv, the drone was able to operate under a hot work permit, in the cleaned and ventilated tank, as the risk of the flight operations had been properly assessed.
There are two key characteristics of our tethered drone system that contributes to safer operation within such environments compared to battery powered drones:
Since the drone is externally powered, if the system needs to be made inert in an emergency, this can be quickly done by switching off the ground station or input power. Since there is no battery on board, there is no residual risk from the stored energy within the drone system.
During flight, there can often be a build up of static electricity on the drone, particularly on the propellers as they move through the air. The tether system of the Scout 137 also acts as a ground wire to draw away any static from the drone provide earthing for the system.
"ScoutDI is the most forward thinking drone technology company we have dealt with and we have a great dialogue with them regarding product development. They also have heavyweights such as DNV and Equinor standing behind them which put ScoutDI at the forefront of the industry"
In such environments where there is a residual risk for gas leaks, the design decisions behind the externally powered Scout 137 showed their worth. We were able to demonstrate that, in normal operation, the Scout 137 was not an ignition source risk when lab tested in an explosive atmosphere and we could carry out a visual inspection of the vessel's slop tank.
While this does not equate to ATEX certification, which needs to address scenarios with potential failure modes, we continue to work with our industrial partners to develop the technology, tools, and processes for safer drone operations in these types environments.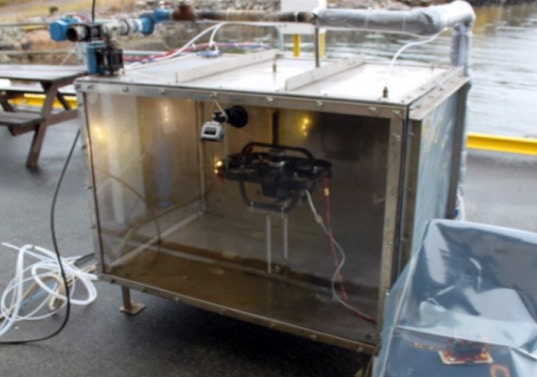 Testing under realistic conditions in normal operation allowed us to de-risk the operation prior to the inspection on board Skarv.
Would you like to know more about the Scout 137 Drone System?
Are you looking for drone-based inspection technology for confined industrial spaces? Submit the form below to get in touch with us and we'll help you look at your options 👍
The Scout 137 Drone System has been specifically designed to give you control, coverage, and situational awareness for your confined space inspection activities.
The Scout Portal is a powerful cloud-based tool for the live-streaming, capture, storage, and analysis of data for your confined space inspection needs.